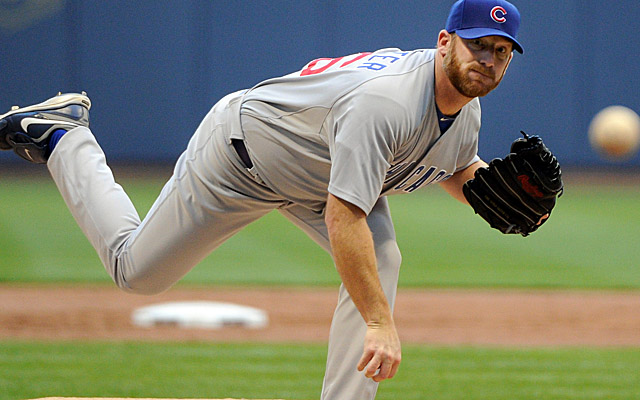 Along with Hamels and Greinke, the Cubs' Ryan Dempster is attracting a lot of interest. (US Presswire)
NEW YORK -- The Phillies have a scout here at Sunday's Yankees-Angels game, which will spur additional speculation that the Angels could be in on Phillies star lefthander Cole Hamels, if he truly becomes available in trade.
The Phillies are due to try to keep Hamels with a long-term extension, and they are seen as having at least a small shot at getting it done (one official put it at about 30 percent), which translates into a much better chance than the Brewers have of locking up Zack Greinke before he becomes a free agent after the year.
In any case, either or both the two free-agent-to-be stars -- Hamels and Greinke -- may be traded this month, and preparations are ongoing in as many as 10, or possibly even more, front offices for such a big undertaking. The original thought on the part of many execs was that the Cubs' Matt Garza would cost more in terms of prospects/players than Hamels or Greinke due to Garza being under team control through 2013, but Garza has had a couple rough outings lately and teams may be getting more excited about the possibility of a top-of-the-rotation difference-maker.
"Garza is a good pitcher for the middle of the rotation, but Hamels is a guy you'd feel good about handing the ball to in a Game 7,'' one AL general manager said.
Here is the early field of teams that could be interested in Hamels or Greinke.
1. Rangers. The Rangers seem far more interested in Hamels than Greinke, as Greinke seems to represent their fallback position. Texas has great prospects to trade, even beyond shortstop Jurickson Profar and third baseman Mike Olt, both of whom might be untouchable.
2. Angels. Phillies scout Dave Hollins is here, so that's all you need to know about the Angels' interest in Hamels. Center fielder Peter Bourjos, who played today (possible showcase) would have to be in a package for Hamels, as the Phillies don't plan on having Shane Victorino back. Greinke is also a strong possibility for them, as they recently sent two scouts (including Marcel Lachemann) to see him pitch. One caveat: Dan Haren will start a rehab game Monday, and they haven't quite given up on Ervin Santana, whose stuff is better than his results. (Still, there is enough doubt about their rotation situation that the Angels are at least a serious early player for a top pitcher.)
3. Tigers. Like the Angels, the Tigers are all-in this year. Owner Mike Ilitch made that last-minute $214 million expenditure on Prince Fielder because he aims to win in 2012 (and beyond, of course). None of their other talented starters is establishing himself yet as a solid No. 2 behind Justin Verlander.
4. White Sox. They look like a real playoff threat now, and GM Ken Williams likes to deal. An injury to John Danks and struggles by Phil Humber have hurt their rotation depth. And now Gavin Floyd also has a bit of elbow soreness, possibly adding to their rotation need.
5. Dodgers. A lot of folks already are figuring they have a good shot at Hamels in the winter, so why not now? They definitely have the bucks to do a deal. They want to add a pitcher, but are also one of many considering Ryan Dempster (Ted Lilly, the ex-Cub, put in a good word for Dempster), who may be most likely for them.
6. Red Sox. It's a miracle they are still in the race considering how bad their starting pitching has been (27th best in baseball). But there's talent there, and one big addition could make a difference. They have targeted starting pitching, and while there have been suggestions they are tapped out financially, they should have no excuse as they cleared money this winter by spending only $7.4 million on free agents and trading Marco Scutaro in a salary dump. They don't see Greinke as a fit, so it would have to be Hamels or possibly Garza, who thrived in the AL East with the Rays as a known "Red Sox killer."
7. Braves. They very much like Greinke, and he has affinity for Atlanta as well. That's a spot where he could settle down (another bonus: they train in Orlando, his hometown). The Braves also have been connected to Dempster. They have the prospects, especially young pitchers, for a deal.
8. Orioles. There appears to be an interest, especially in Greinke. The knee injury to Jason Hammel is another blow to their depleted rotation. Understandably, they won't part with their two top prospects -- shortstop Manny Machado or pitcher Dylan Bundy.
9. Yankees. The Yankees don't have a glaring need for rotation help and CC Sabathia will be back soon (and presumably Andy Pettitte, too, by early September). They also don't want to trade cheap pieces like Manuel Banuelos, Mason Williams, Gary Sanchez and others when one of their big goals is to get below a $189 million payroll by 2014 (that's the luxury-tax threshhold), limiting their chances to make a deal for a big pitcher. And while they like Hamels, they don't see Greinke as a fit for New York. Like Boston, they do like Garza from his Rays days.
10. Blue Jays. Their aggressive, smart GM Alex Anthopoulos manages to have his hand in everything, but this is probably a long shot. First of all, they need to show they are a true contender this year, and that's won't be easy.