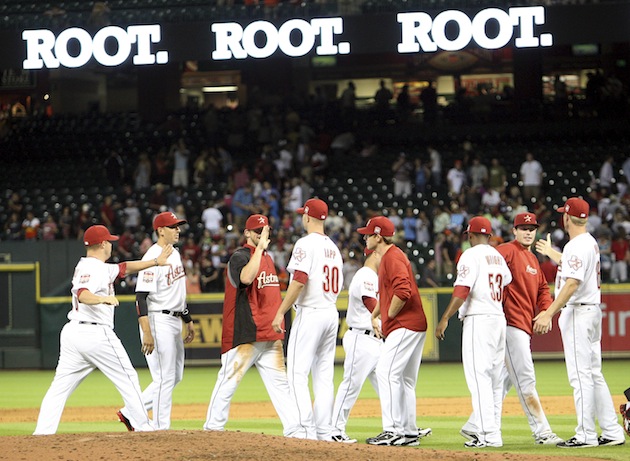 You may not have noticed -- and folks in
Houston
certainly may not have noticed -- but the Astros' 3-2 victory over the
Rockies
on Sunday gave the team its first winning record since July 29, 2009.
The Astros did that in front of just 14,195 people, the smallest announced crowd in Minute Maid Park history.
Houston used a two-run rally off of
Rex Brothers
in the eighth inning to secure the lead, and
Brett Myers
gave up a hit and a walk, but still managed to pick up his first save since Sept. 27, 2007.
The Astros are picked by many
(including a consensus of CBSSports.com's baseball writers
) to not only finish last in the National League Central this season, but perhaps challenge the
Mets
' 120-loss season in 1962, or at least become the first team since the 2003
Tigers
(43-119) to lose 110 games. Houston finished 56-106 last season and did that with
Hunter Pence
for 100 games and
Michael Bourn
aboard for 105.
Of course, it is just April 8 and we're three games into the season, but still, it's the Astros and they're north of .500 -- it may not be something we can say much this year (or in coming years with the team headed to the American League next year), so why not celebrate it while we can?