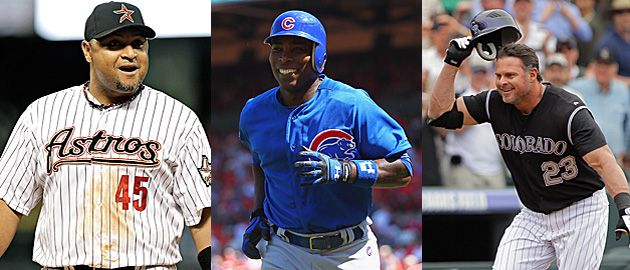 With the
Astros
moving to the American League next year, there will be at least one interleague series throughout the seasons moving forward. So, when interleague play begins Friday, it's the last time this will be put forth as a novelty.
Anyway, one of the areas of intrigue is who the NL teams will use as a DH. Let's take a look at what each of the 16 NL clubs could do when faced with playing an AL team on the road here in the next several weeks. 
Arizona Diamondbacks:
Lyle Overbay
will probably get a shot, but I'd think about putting
Jason Kubel
at DH, playing
Willie Bloomquist
in the outfield and getting
John McDonald
's glove in at shortstop. UPDATE: With Chris Young coming off the DL, Jason Kubel will probably be the DH. 
Atlanta Braves:
Eric Hinske
has served as DH several times before in his career and he's certainly an option, but I'll bet on him playing left field with
Martin Prado
at third base and
Chipper Jones
being used as the DH to save his knees. The powerful
Juan Francisco
is another option, but I bet he's only used if Chipper sits altogether.
Chicago Cubs:
Should be a pretty easy call.
Alfonso Soriano
is a bad left fielder and has been hobbling around with a knee issue recently.
Cincinnati Reds:
The best bet is probably
Ryan Ludwick
, with
Chris Heisey
playing left field.
Colorado Rockies:
They already have a DH:
Jason Giambi
.
Houston Astros:
They probably wouldn't mind keeping
Carlos Lee
fresh by letting him DH.
Brian Bogusevic
played some 1B in the minors, and that opens a spot for
Travis Buck
in right.
Los Angeles Dodgers:
Gotta be
Bobby Abreu
, with
Tony Gwynn
Jr. in center and
Scott Van Slyke
in left. If Matt Kemp were healthy, it would still be Abreu, with Gwynn playing left.
Miami Marlins:
Looks like of the threesome of
Logan Morrison
,
Greg Dobbs
and
Austin Kearns
the Marlins will have one left fielder, one DH and one bench bat (
via PalmBeachPost.com
), with Dobbs obviously not an option in left.
Milwaukee Brewers:
Injuries have created a problem here, but they still have flexibility in how they use
Norichika Aoki
and/or
Brooks Conrad
.
New York Mets:
Scott Hairston
could get a shot, whether it's as DH or in the outfield with
Lucas Duda
or
Kirk Nieuwenhuis
slotted as the DH.
Justin Turner
and
Jordany Valdespin
are also options. I also wonder if they'll try to DH struggling
Ike Davis
and put Duda or Turner at first? There's good flexibility here and Terry Collins will surely mix it up.
Philadelphia Phillies:
Jim Thome! Oh wait, he's on the DL. Damn. Instead, look for
Ty Wigginton
and
John Mayberry
to fill the first base and designated hitter spots.
Pittsburgh Pirates:
Garrett Jones
and
Casey McGehee
manning the first base and DH spots is the best bet.
San Diego Padres:
They have lots of options with outfield and first base. We know
Yonder Alonso
will play while
Cameron Maybin
will be in center with
Will Venable
in right. From there,
Mark Kotsay
,
Chris Denorfia
,
James Darnell
and
Jesus Guzman
will fill spots, whether 1B (if Alonso DHs), LF or on the bench.
San Francisco Giants:
They have a choice between the two guys who don't start at first (from
Brandon Belt
,
Brett Pill
and
Aubrey Huff
) or whoever doesn't start in the outfield between
Nate Schierholtz
and
Gregor Blanco
, unless they want to give
Buster Posey
a break from catching. So, yes, plenty of options here.
St. Louis Cardinals:
It depends upon health, but if they're all playable for the interleague series,
Lance Berkman
,
Allen Craig
and
Carlos Beltran
can fill the RF, 1B and DH spots. That's a huge boost for this club. Craig's presence actually makes them better suited for the AL, from this point of view.
Washington Nationals:
Too bad Michael Morse isn't healthy, as he's a perfect DH-type. Instead, the Nationals will be looking to
Xavier Nady
.
For more baseball news, rumors and analysis, follow @EyeOnBaseball on Twitter, subscribe to the RSS feed and "like" us on Facebook.