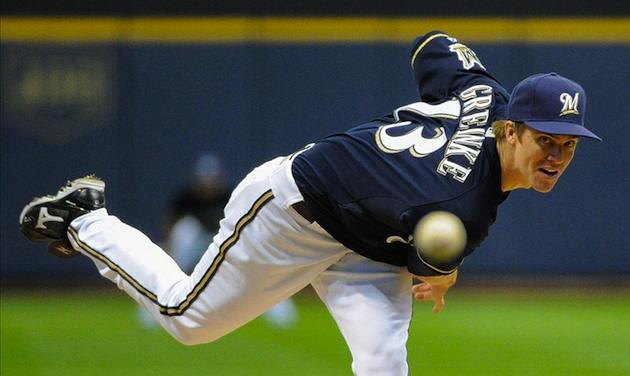 All-Star selection Sunday is usually about as much as who didn't make the team as who did. So, which National Leaguers had a case to be on Tony La Russa's roster but didn't hear their name on TBS Sunday? (Keep in mind because of injuries, rotations and other developments, many of these players could still end up in Kansas City.) Here's our All-Snub team for the National League:

Catcher -- Miguel Montero, Diamondbacks: It's tough to go against the three headed to Kansas City, but if there were another space, Montero is the easy pick of the remaining non-Stars. He's hitting a cool .279/.375/.434 with eight home runs and 43 batted in.


First base -- Paul Goldschmidt, Diamondbacks: Again, it's Joey Votto and everyone else in the National League, but the second-year Diamondbacks first baseman could challenge for an All-Star spot in years to come. So far this season, the 24-year-old is hitting .293/.369/.542 with 11 home runs and 35 RBI.

Second base -- Brandon Phillips, Reds: This one was tight between Phillips and the third Diamondback on this list, Aaron Hill. Phillips' Gold Gloves (three with a spot on the shelf for No. 4 in November) gives him the edge. He's hitting .288/.330/.446, roughly his career marks in those category to go along with 10 HR and 46 RBI. Hill has higher marks in all the slash lines and one more homer, but Phillips is the best fielder at his position in the big leagues, and that counts for something.

Shortstop -- Jed Lowrie, Astros: The only reason Lowrie isn't an All-Star is because he's an Astro. He leads all qualified National League shortstops in home runs (14), on-base percentage (.347) and slugging (.486). His .261 average is lower than others, but he's no less productive.

Third base -- Chase Headley, Padres: David Freese is on the final five ballot, but it's the Padres' Headley who is the best third baseman not on the roster. Headley's hitting .271/.369/.415 with eight home runs and has 10 stolen bases to boot. He's also been stellar on defense. It's just that he's in San Diego, so not many have noticed.

Left field -- Matt Holliday, Cardinals: With all due respect to Martin Prado (who is having one heck of a season for the Braves), Holliday gets the nod here. He's hitting .307/.389/.500 with 12 home runs and 48 RBI. Prado's better defensively, but how much does that matter in left?

Center field -- Michael Bourn, Braves: Fans can get a chance to right this wrong, but with teammate and future Hall of Famer Chipper Jones on the ballot along with Bryce Harper, there's little chance he'll win it -- even if he should. Bourn is hitting .307/.355/.552 with seven home runs, 29 RBI and 22 stolen bases. With his speed, he covers more ground than Verizon.

Right field -- Jason Heyward, Braves: If last year was the sophomore slump, this year is the junior jump, going from young star with potential to perennial All-Star. Heyward, perhaps the game's best defensive right fielder, is hitting .272/.344/.502 with 12 home runs and 38 RBI. It appears he's making the adjustments he had trouble with last season.

Starting pitcher 1 -- Zack Greinke, Brewers: The former Royal still has a home in Kansas City, so at least he doesn't have to cancel a hotel reservation. Greinke is 9-2 with a 2.82 ERA and a 2.72 xFIP. FanGraphs.com has him leading all National League pitchers in WAR (3.6), while Baseball-Reference.com has him third (2.8), either way, he's having a heck of a season.

Starting pitcher 2 -- Johnny Cueto, Reds: Cueto is 9-4 with a 2.26 ERA and his 2.29 ERA over the last two seasons is the best of any starter in the National League. Not only that, just two starters have given up fewer home runs per nine, but neither of those guys pitch half the time in the launching pad that is Great American Ball Park.

Set-up man -- Matt Belisle, Rockies: Sure, he's not a household name, but what middle reliever is? A former starter, Belisle has found his niche as a setup guy in Colorado of all places. This year he's 3-2 with a 1.93 ERA and a WHIP of 1.167.

Closer -- Tyler Clippard, Nationals: Clippard not only made the All-Star Game as a set-up man a year ago, he picked up the victory. This season he's stepped in for the injured Drew Storen and been lights-out as the Nationals' closer. He has converted 13 of his 14 save opportunities and has a 1.89 ERA to go along with a 0.930 WHIP.
For more baseball news, rumors and analysis, follow @EyeOnBaseball on Twitter, subscribe to the RSS feed and "like" us on Facebook.