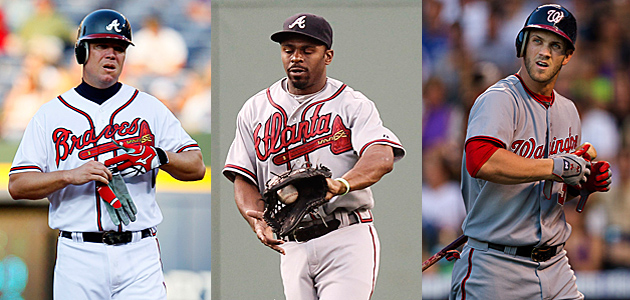 When looking at the Final Vote candidates for the National League, my choice boils completely down to criteria. Are we looking longingly at the past, who is having the best season in 2012 alone or are we looking at the face of Major League Baseball for the next decade?
And, of course, it would be unfair to discredit the 2011 World Series MVP or a man who hit for the cycle twice in a matter of a few weeks.
Here are the five candidates. Remember, you have a vote. Hop over to MLB.com and make your voice heard.
Michael Bourn, Braves, outfielder: If you wanted me to choose only on the basis of who is having the best 2012 season, Bourn is my pick. He plays defense as well as anyone in baseball, is hitting .307/.355/.442 with 15 doubles, four triples, seven homers, 29 RBI, 52 runs and 22 stolen bases.
David Freese, Cardinals, third baseman: The 29-year-old Freese became a household name during the amazing 2011 World Series Game 6 (after already having won the NLCS MVP and playing great throughout the World Series) and he's carried it over into this season, hitting .280/.331/.481 with 13 homers, 48 RBI and 35 runs.
Bryce Harper, Nationals, outfielder: He's only 19, but it's evident he's going to be the face of Major League Baseball -- along with Mike Trout, who made the AL All-Star Team -- for the next decade-plus. His numbers are good: .274/.347/.475 with eight homers, 22 RBI, 36 runs, 12 doubles, four triples and eight stolen bases. He has a cannon of an arm from the outfield and already carries the requisite star power the All-Star Game needs. Having both Trout and Harper there, on opposite teams, seems like it would be a great showcase for young fans.
Aaron Hill, Diamondbacks, second baseman: Hill, 30, is hitting .301/.362/.516 with 17 doubles, five triples, 11 homers, 38 RBI and 35 runs. He's certainly a worthy candidate, but he's completely overshadowed here by the past/present/future storyline in addition to Freese's rock-star status after the 2011 postseason.
Chipper Jones, Braves, third baseman: It's the final season for the likely first-ballot Hall of Famer. He's amassed a career line of .304/.402/.531 with 460 homers, 532 doubles, 1583 runs and 1589 RBI. When he's played this season, he's been productive (121 OPS-plus), too. I don't think you could argue that he merits selection based only on 2012, but this game is about star power and he's a superstar. Again, it's his final season in the majors, so this choice would be a sentimental one.
My pick: Chipper Jones. Yes, the sentiment has me right here. He deserves a final send off, in my opinion, and that's the basis for this ridiculously tough decision over Bourn and Harper. I don't, however, believe there's really a wrong answer. It's just an opinion and there are sure to be many with a different opinion.
For more baseball news, rumors and analysis, follow @EyeOnBaseball on Twitter, subscribe to the RSS feed and "like" us on Facebook.