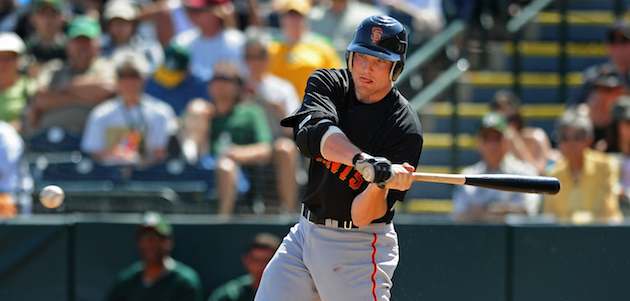 There's never a good time to get hurt, but for Roger Kieschnick, the timing was especially poor.
On May 29, the
Giants
outfielder had an infield single in the first inning of the Triple-A Fresno Grizzlies' game in Sacramento, extending his streak of reaching base safely in all 24 of the team's road games. Even though that was his only hit of the game, he finished the game with a slash line of .319/.390/.623 with 14 home runs, 12 doubles and 37 RBI. It was the best start of his four-year professional career.
Of course, all that is in past tense because in the ninth inning, he lost a battle with the left-field wall going after a two-run, walk-off homer by Sacramento's Brandon Hicks.
"I just missed it," Kieschnick said. "We were playing back as it is. There's a runner on first, guy hits it in the gap, hits it well. If you have any chance, you have to go after it, you have to make some sort of effort or the game's going to be over. It was 2-2 in the ninth inning, no outs. I went after it the best I could and got close but didn't get to it."
Kieschnick has since been put on the disabled list. He said he has been told he doesn't need surgery for the fracture in his left shoulder but does need to rest it. As a right-handed thrower and left-handed batter, the fact that it's his left shoulder qualifies as minor good news, as it should cause fewer problems for a return to the field -- "for being a fracture, it was probably the best-case scenario," he said.
The Giants selected him out of Texas Tech in the third round of the 2008 draft, the same draft that netted the team
Buster Posey
,
Brandon Crawford
, Conor Gillaspie and Eric Surkamp. After a solid first year at high-Class A in 2009 (he hit .296 with 23 homers), Kieschnick battled poor starts in his next two seasons at Double-A Richmond, plus a back injury that limited him to 60 games in 2010 and cut his final week of the season short last year.
Still, he showed enough promise that the Giants added him to the 40-man roster this offseason to protect him from the Rule 5 draft -- and he showed them exactly why in his first 51 games in Fresno. It was a welcome change for Kieschnick to have a good April and May.
"I started off strong and the last couple of years I haven't had a good start. I definitely made it a lot easier on me," Kieschnick said. "Last year in Richmond, which isn't the best hitting environment, it's cold and all that, but I got off to a slow start and was hitting .200 for the first month and I had to crawl my way out the rest of the year. The start this year makes it a lot easier on you, especially as the season goes on."
Now, though, he's getting ready to go back to
Arizona
to rehab at the team's facilities in Scottsdale, hopeful he can return by the end of the season and maybe even get a callup in September.
"What gets you through it is focusing on how you'll get healthy," Kieschnick said. "If you think about how much time you're missing, you're just digging yourself a hole. I just try to use that time to learn from the guys around me. I enjoy talking to the guys, I enjoy being around baseball and learning as much as I can."
PROSPECT TALK
•
Tigers
third baseman
Nick Castellanos
hasn't let a promotion stop his hot bat. In his first two Double-A games, Castellanos has four hits in eight at-bats in two games for Double-A Erie. At high-Class A, Castellanos hit .405/.461/.553 with 17 doubles and three homers in 55 games. The 20-year-old hit 36 doubles last season at low-A West Michigan.
• The
Pirates
are moving 2010 second-rounder
Stetson Allie
off the mound, the
Pittsburgh Tribune-Review reported earlier this week
. Allie, 22, signed for $2.25 million two years ago in large part because of his 100 mph fastball. The right-hander played third base in high school in Ohio and didn't start pitching until his senior year. Allie appeared in just two games this season at low-Class A West Virginia, allowing four earned runs in just 2/3 of an inning, walking eight and striking out one. Last season at short-season Class A State College, he appeared in 15 games, going 0-2 with a 6.58 ERA. He had 28 strikeouts and 29 walks in 26 innings.
• Just because I love keeping track of these things -- the
Reds
'
Billy Hamilton
had four steals Wednesday night, putting his total on the season at 67. Just to put that in perspective, last year
Michael Bourn
led the majors with 61 stolen bases for the entire season and he leads the minor leagues this year by 28. Heading into Wednesday's games, the big-league leader, Miami's Emilio Bonifacio, has 20 stolen bases. Nobody in the American League had more than 13 heading into Wednesday's game. Hamilton has played in just 56 games this season -- if you put his pace into a full 162-game season, he'd finish with 194 stolen bases.
• One of the reasons Hamilton is still in high-Class A is that the Reds have another shortstop prospect,
DiDi Gregorius,
at Double-A Pensacola. Gregorius, 22, is hitting .287/.350/.335 for the Blue Wahoos. Just one steal, though.
• The
Rangers
certainly don't need another bat, do they? Well, they've got one in
Mike Olt
. A first-round supplemental pick out of UConn two years ago, Olt is crushing at Double-A. The third baseman is hitting .316/.416/.641 with 18 home runs, including seven in the last week. Olt hit two homers in each of the first three games this month.
• The 2011 draft was rich with pitching, with the likes of Dylan Bundy, Gerrit Cole, Trevor Bauer and Archie Bradley, but don't forget about the
Marlins
' first-round pick,
Jose Fernandez
. A Cuban-born right-hander, he's excelling in his first year in pro baseball. At low-Class A Greensboro, Fernandez is 6-0 with a 1.34 ERA, recording 85 strikeouts in 67 innings.
For more baseball news, rumors and analysis, follow @EyeOnBaseball on Twitter, subscribe to the RSS feed and "like" us on Facebook.