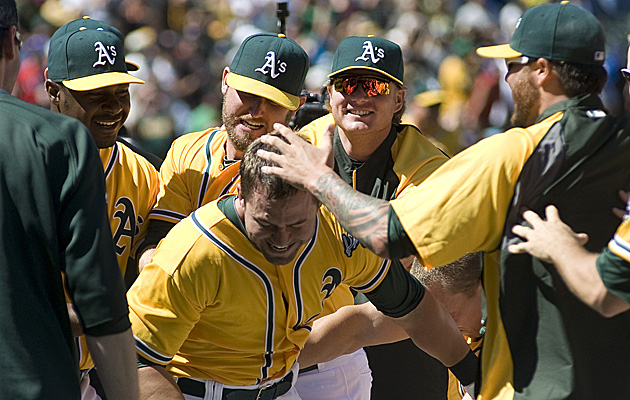 How is that for a first career homer? (Getty Images)


Tons of late-inning drama Wednesday was headlined by three walk-off home runs. Two came from All-Stars (Matt Kemp and Billy Butler). One came from an unknown who had previously never even hit a major-league home run.
Complete Wednesday scoreboard with recaps and box scores for every game








3 UP

Brandon Hicks, Athletics: Well this was an easy choice. The A's salvaged a split against the Rangers with a come-from-behind victory Wednesday afternoon. The game-winner was a walk-off home run by backup shortstop Brandon Hicks. It also happened to be Hicks' first career homer.

Mike Winters, umpire: What, an umpire makes it? Damn right he does. In the bottom of the 10th inning, with the Dodgers trailing the Phillies by one, Matt Kemp squared off against Jonathan Papelbon. The tying run was at third base. Kemp sent a grounder in the left-side hole, where Jimmy Rollins made a great play to grab the ball and fire it to first. In fast motion, it was nearly impossible to tell what the correct call was. Winters called Kemp safe. The Phillies argued. I actually said "what?" out loud, because my gut reaction was that he was out. The slow-motion replays showed that Kemp hit the bag with the baseball about two inches from hitting the glove of Phillies first baseman John Mayberry. Great call by Winters to see it with the naked eye. Had he missed it, the Phillies would have won. Instead, Kemp hit a walk-off, two-run bomb in the 12th. If we're going to rag on the umpires for missed calls, we need to praise them for great, game-altering calls like this one. Well done, Mike.

Carlos Santana, Indians: It has been a very disappointing offensive season for the Indians' backstop, but he came through Wednesday night against the Rays. With the Indians having just taken a 5-4 lead, Santana put a charge into a Jake McGee pitch for a three-run homer. On the night, Santana was 2-for-4 with two runs and four RBI. Maybe this will be the game that gets him going.

3 DOWN

Lance Berkman/Rafael Furcal, Cardinals: The Cardinals gave up four runs in the first inning and lost 4-3 to the Brewers. Only one of those runs was earned, due to three errors in the first -- two by Furcal and one by Berkman. And Berkman is now 0-for-9 since returning from the DL. Maybe he should have taken a rehab assignment.

C.J. Wilson, Angels: I'm not sure he's close to calling them his "Daddy" any time soon, but the Tigers appear to have Wilson's number. Prior to Wednesday's start, Wilson was 0-1 with a 5.56 ERA and 1.59 WHIP in 11 1/3 career regular-season innings against the Tigers. In two starts during last season's ALCS against the Tigers, Wilson was 0-1 with a 6.75 ERA and 1.97 WHIP. Wednesday, the Tigers lit Wilson up for eight hits and seven earned runs in six innings. Wilson also walked five while striking out seven.
Jeremy Guthrie, Rockies: The nightmare of a season just keeps getting worse. Guthrie was spotted a 3-0 lead and then a 5-1 lead. And he couldn't even get out of the third inning, coughing up six hits and six runs (four earned, but also two home runs, including a three-run job by Garrett Jones) in 2 2/3 innings.








David vs. Goliath: The Oakland Athletics are right in the middle of the playoff picture. Alex Rodriguez and Mark Teixiera of the Yankees make almost as much money combined as the entire A's roster. Throw in CC Sabathia and the Yankees are paying three players roughly $20 million more than the A's are paying 25. Also, the Yankees have the best record in baseball. The two clubs begin a four-game series Thursday in Oakland. It's Freddy Garcia (4-2, 5.25) against A.J. Griffin (1-0, 2.63) of the A's. 10:05 p.m. ET

Race for 13: I'm not a fan of the win stat when it comes to using it as a primary method of judging pitchers, but I realize the world I live in. Many love it. So I'll play along: Right now, four pitchers in the majors have 12 wins. Three of them are in action Thursday, with two facing each other (David Price is the third; he gets the Indians). In Washington, we'll see R.A. Dickey (12-1, 2.66) against Gio Gonzalez (12-4, 2.93). Also on the line, Dickey is looking to help the Mets break a five-game losing streak. 12:35 p.m. ET

Potential playoff matchup: I hyped the Angels-Tigers series as a possible playoff preview earlier this week, so I feel like I need to bring up the Braves-Giants series at some point, too. And that point is now, especially after the epic game we saw Wednesday night. I mean, Brandon Crawford with a three-run, extra-inning, go-ahead bomb? Thursday brings a good pitching matchup, too, as it is Madison Bumgarner (11-5, 3.15) against Tim Hudson (7-4, 3.80). With the tired offenses, we may see a low-scoring affair here. 12:10 p.m. ET
Thursday's probable pitchers








• Losing GMs: In light of Royals' general manager Dayton Moore is headed for his sixth consecutive full season with a losing record. In light of that, Royals Review researched how general managers of the past with six straight losing seasons fared with the rest of their careers. Hint: Mostly terribly.

• Must-read: A man started sending the St. Louis Cardinals telegrams in the 1930 season. For example: "Do not worry, you will lose today, regardless of your pitching choice; you will win the next three." And that came true. So did many more. This is amazing. Check it out over on Baseball Prospectus.

• MLB gets its wish with new draft rules: The draft rules in the new collective bargaining agreement were made in an attempt to keep draft spending down. And the Associated Press reports that draft spending from 2011 to 2012 dropped 11 percent. No, this doesn't help small-market teams. It hurts them, because player developement is a way to get the best amateur talent and keep it in house before the large-market teams can outspend them in free agency (draft contracts are generally far smaller than MLB free agent contracts). And that brings us to this ...

• Blue Jays pull one over on the draft: Thestar.com has the story on how the Blue Jays seem to have found a way to loophole the draft to their advantage. It's brilliant, but more teams are going to catch on.

• Tobacco replacement? Evidently there's a replacement for dipping, and it's Jake's Mint Chew, which is tobacco-free. And Jake's is also introducing a new flavor: Cranberry. I never understood the infatuation with chewing -- gimme sunflower seeds any day -- but this could be a good alternative for the players who do enjoy a dip. (SFGate.com)

For more baseball news, rumors and analysis, follow @EyeOnBaseball on Twitter, subscribe to the RSS feed and "like" us on Facebook.