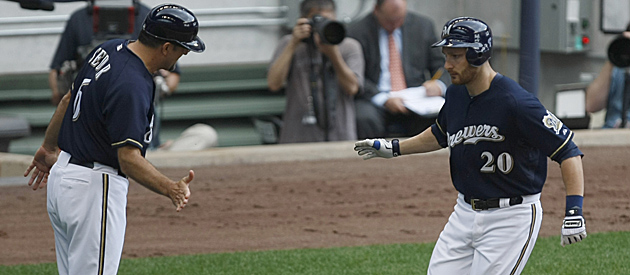 Sunday brought us the series finales for 14 interleague series and one NL-only series -- that just happened to be between two division leaders. No reason to ramble on further in this space ...
Full Sunday scoreboard with recaps and box scores for every game
3 UPJonathan Lucroy, Brewers.
The Brewers catcher is having himself some kind of season. He was already in the midst of a breakout season before going nuts Sunday with a career game against the
Twins
. He was 3-for-5 with a grand slam, another homer, seven RBI and three runs. It was the first multi-homer game of his career, in addition to setting new career highs for RBI and total bases in one game. He's now hitting .342/.386/.550 on the season, pushing his OPS-plus to over 140.
Scott Van Slyke, Dodgers.
The son of three-time All-Star Andy Van Slyke came through with the game changer in the lone night game Sunday. The 25-year-old rookie came on to pinch hit in the seventh inning with two on, two out and the Dodgers trailing by two. And in his ninth career at-bat -- on a 3-0 count -- Van Slyke clubbed his first career homer, giving the Dodgers a
6-5 lead that they wouldn't relinquish
. The Dodgers swept the
Cardinals
, have won nine of their last 11 and sport the best record in the majors at 28-13.
Ryan Cook, Athletics.
The relief pitcher turned in a run-of-the-mill perfect inning with two strikeouts.
The A's won 6-2
over the
Giants
. Anyway, back to Cook. Yes, that's a run-of-the-mill outing for him. He's now thrown 20 1/3 scoreless innings to open the 2012 season, which is an Oakland record. He's only allowed four hits while recording 20 strikeouts.
3 DOWNThe Rockies.
With a 6-4 loss Sunday
, the Rockies were swept by the
Mariners
without even having to face
Felix Hernandez
.
Jeremy Guthrie
allowed six runs in six innings while his offense struck out 13 times and took just one walk. They left 10 men on base and allowed
Dustin Ackley
to almost casually steal home. The Rockies have now won just three of their last 16.
Alex Rodriguez, Yankees.
A-Rod was 0-for-4 with five men left on base in a
5-2 loss
. He also committed an error.
Mat Latos
' wife was there and had this thought:
Aside from that win, watching A-Rod stare at his glove like there was a hole in it was pretty clutch today. #lolRod

— Dallas Latos(@DallasLatos) May 21, 2012
Howie Kendrick, Angels.
The Angels-
Padres
game mercifully
ended in the bottom of the 13th inning
, but it may not have without Kendrick's error.
Will Venable
singled to left field.
Clayton Richard
-- a pitcher who had just collected a pinch-hit single -- started on first base and was able to come all the way around and score after Kendrick booted the ball in left.
Arms race out West.
Here's an intriguing pitching matchup with some nice international flavor. Felix Hernandez (3-3, 3.02) will lead his Mariners against
Yu Darvish
(6-1, 2.60) and the
Rangers
.
10:10 p.m. ET/7:10 p.m. PTStopping the skid.
The longest streak -- whether winning or losing -- is the
Cubs
' six-game losing streak. They'll certainly need to generate some offense to snap the skid, but Monday offers hope in the form of
Matt Garza
(2-1, 2.58) on the hill.
Bud Norris
(4-1, 3.58) gets the nod for
Houston
.
8:05 p.m. ET/7:05 p.m. CTNats head to Philly.
The
Nationals
came into the season hoping to get a rivalry going with the
Phillies
. Last time these two met, the Nats took two of three in Washington. In the one game the Phillies won, there was the Jayson Werth broken wrist and the whole Hamels-hit-Harper-on-purpose controversy. The Nationals now head to Philadelphia with a better record by 3.5 games. Monday's pitching matchup favors the Nats, too, as it's
Gio Gonzalez
(5-1, 2.22) against
Kyle Kendrick
(0-3, 5.96).
7:05 p.m. ET
Full Monday schedule with probable pitchers
•
Future career?
Injured
Rays
outfielder Sam Fuld hit the broadcast booth Sunday for a one-game stint as a color commentator with Dewayne Staats and Brian Anderson on Sun Sports. Prior to the game, he admitted he was nervous. [
TampaBay.com
]
•
Positive reviews for Citi Field.
The
Mets
altered some of the dimensions in Citi Field this past offseason in an effort to make the notorious pitcher's park less extreme. Thus far, the numbers show it's still pretty pitcher-friendly -- albeit not nearly as bad as it was before -- but the players are happy that it's a bit easier to go yard. [
newsday.com
]
•
Speed Kills.
Martin Prado
loves hitting second, because he gets to face a distracted pitcher every time speedster
Michael Bourn
is on base. "For me, having a guy who can steal 70 bags in front of me, pitchers are going to be more aware when he's on base and they're going to forget about me," Prado said (
ajc.com
).
•
Using his head.
The
Braves
mascot was socializing with fans in Tampa Bay Saturday when he took one off his dome.
Big League Stew has the video
.
•
The Wood Chronicles.
Cubs pitcher Kerry Wood retired after a one-batter, one-strikeout outing Friday and
Paul Sullivan of the Chicago Tribune rounded up several stories
-- good and bad -- about Wood's career.
•
Nattitude rising.
The Nationals are up 38 percent in attedance from last season at this point. The only two teams that have seen a higher rise are the
Marlins
(new stadium) and Rangers (two straight World Series appearances). [
Mark Zuckerman on Twitter
]
•
Replay FAIL.
Via yakyubaka.com
, even after replay review, this was ruled a foul ball:
For more baseball news, rumors and analysis, follow @EyeOnBaseball on Twitter, subscribe to the RSS feed and "like" us on Facebook.