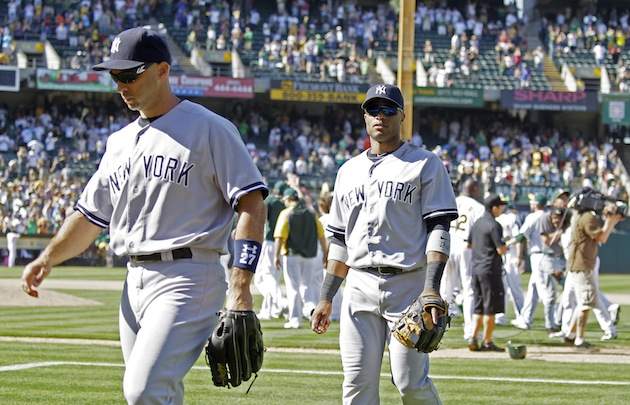 Raul Ibanez and Robinson Cano walk off after Oakland recorded its 11th walk-off victory of the season. (Associated Press)

Sunday was ruled by two-homer days and sweeps. There were five players (Miguel Cabrera, Ryan Doumit, Ryan Zimmerman, Nate Schierholtz and John Mayberry Jr.) that hit two homers in one game and nine teams (Orioles, Blue Jays, Tigers, A's, Reds, Pirates, Cardinals, Dodgers and Diamondbacks) finished off sweeps.

Full Sunday scoreboard with recaps and box scores for every game








3 UP

Mike Trout, Angels: Trout set a club and American League rookie record by scoring in 14 consecutive games. The rookie outfielder led off Sunday's game against the Rangers with a triple and scored on Albert Pujols' RBI double, giving the Angels an early lead against the first-place Rangers. The overall American League record is 18, set by Red Rolfe of the Yankees in 1939 and tied by Kenny Lofton in 2000. The big-league record is 24, set by Billy Hamilton of the Phillies in 1894.

Miguel Cabrera, Tigers: As noted, several other players hit two homers on Sunday, but Cabrera's two homers gave him 300 for his career. His solo shot in the first was No. 299 and his second solo homer in the third off of Chicago starter Philip Humber gave him an even 300 since making his debut as a 20-year-old in 2003.

Aroldis Chapman, Reds: Since giving up a home run to Minnesota's Josh Willingham on June 24, Chapman hasn't given up a run and just two hits in a span of 11 appearances. With two strikeouts in his one inning of work on Sunday (including a game-ending whiff of Ryan Braun), he's recorded at least two strikeouts in all but one of those outings and has struck out 25 of the 36 batters he's faced in that stretch. Overall, he's struck out 86 batters in 45 2/3 innings and lowered his ERA to 1.58 while recording 17 saves.

3 DOWN

Mike DiMuro, umpire: DiMuro had three questionable calls in the Dodgers' 12-inning victory over the Mets. In the ninth inning, he called New York's Ike Davis out when replays showed he was safe. In the 11th he said Dodgers second baseman Mark Ellis pulled his foot off the bag on a double-play attempt (although replays were inconclusive) , and then in the 12th, he called the Dodgers' Tony Gwynn Jr. safe when replays showed he was out. Gwynn went on to score the go-ahead run in the L.A. victory. Crew chief Jim Joyce had his own missed call earlier in the game, giving Davis an extra strike when he ruled Davis had tipped a two-strike pitch. Davis then doubled and scored.

Jon Lester, Red Sox: Lester's first pitch of the game was deposited over the Green Monster by Brett Lawrie -- and it didn't get any better from there. The 11 earned runs and four home runs he surrendered in four-plus innings were the most he's allowed in his career. He tied a career high with five walks. He fell to 5-8 with a 5.46 ERA.

Chicago Cubs: coming off a sweep of the Marlins, the Cubs were feeling pretty good about themselves as they welcome the Cardinals into Wrigley Field. Chicago boarded the plane to Pittsburgh in superhero garb, but could put out the Bat signal for offense, going  0 for 13 with RISP in series against the Cardinals while being outscored 23-1 in the three-game sweep.




Prove it: The last time Orioles right-hander Tommy Hunter faced the Indians, Cleveland collected five runs on eight hits and didn't make it out of the second inning. The Orioles then sent him to the minors for a couple of weeks before calling him back to Baltimore last week. He allowed just one run over 7 1/3 innings in a victory over the Twins on Wednesday and now has a chance to redeem himself against the Indians. 7:05 p.m.

I Don't Like Mondays: The Braves haven't won on a Monday since a 3-0 victory over the Cubs on Aug. 22, 2011. Since then, the team has a serious case of the Mondays, losing their last 15 games on the first day of the work week. Lefty Mike Minor goes to the hill for Atlanta looking to break the streak against Josh Johnson and the Marlins. 7:10 p.m.

Zimmermann on a roll: Over his last five starts, Nationals right-hander Jordan Zimmermann is 3-0 with an 0.84 ERA, including a victory over the Mets in his last start. He matches up again with Chris Young, who allowed just two runs on six hits in six innings. 7:10 p.m.

Monday's probable pitchers








• Filling big shoes: Forget Mike Matheny taking over for Tony La Russa, it's Derek Lilliquist who had the biggest shoes to fill in St. Louis, those of former pitching coach Dave Duncan. So far, he's acquitted himself quite well, thank you. [St. Louis Post-Dispatch]

• What's in a name? MiLB.com is running an NCAA-style tournament for the best name in the minors and they're to the round of 32. I'm not sure if I like Smerling Lantigua, Rock Shoulders or Zelous Wheeler best.

• Pete Rose in Cooperstown: Pete Rose took the high road in Cooperstown, or as high of a road as you can take as you're being filmed for your own reality show. [MLB.com]

• Canadian pride: Toronto Sun writer Bob Elliott was the winner of the Taylor Spink Award this year, an honor well-deserved for Canada's best-known baseball writer. [Canoe.ca]

• The Onion on Andrew McCutchen: The line about his ability to love got me. [The Onion]

• Throwing heat: A Japanese high school pitcher is garnering attention after throwing a 100 mph pitch during a regional high school tournament. [Reuters]

• Olympic movement: Baseball and softball are joining forces to try to get back into the Olympics for the 2020 games. [Associated Press]

For more baseball news, rumors and analysis, follow @EyeOnBaseball on Twitter, subscribe to the RSS feed and "like" us on Facebook.