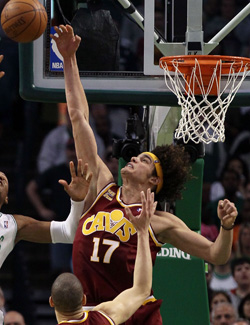 Anderson Varejao is officially done for the season.
(Getty Images)
Enough with the pretenses. Let's make this official.
The Cleveland Cavaliers announced in a press release on Friday that forward/center Anderson Varejao is officially out for the remainder of the regular season due to a fractured wrist suffered back in February.
Cavaliers Forward/Center Anderson Varejao continues to rehabilitate and recover from his fractured right wrist. While the healing of his fracture has progressed well, his full recovery is not complete and he is still experiencing some soreness in the wrist.

As a result, the team has made the decision to withhold him from play for the remainder of the Cavaliers season. This will put Varejao in the best position to focus on his rehabilitation and hence reach the point of full recovery as quickly as possible.
The Cavaliers initially announced that
Varejao was out "indefinitely"
after an MRI revealed he had suffered a non-displaced wrist fracture during a Feb. 10 game against the Milwaukee Bucks.
The Plain-Dealer reports
that Varejao "hopes" to play for his native Brazil during the 2012 Summer Olympics and that the Cavaliers support the effort.
Varejao, 29, averaged 10.8 points, a career-high 11.5 rebounds, 1.8 assists and 1.4 steals in 31.4 minutes per game for the Cavaliers this season.
This is the second straight season cut short by injury for Varejao. Last year, he appeared in just 31 games last season after a torn tendon in his leg required 
season-ending surgery in January 2011
. 
Cleveland got off to a surprisingly good start, but Varejao's extended absence dampened things quite a bit. After going 10-15 to open the season, the Cavaliers have gone 10-26 since, and now reside in the Central Division basement.