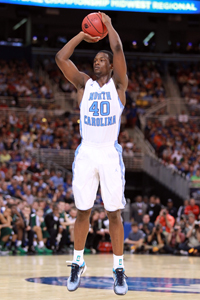 The Cavaliers reportedly have strong interest in Harrison Barnes.
(Getty Images)
The
Cavaliers
are in an interesting spot at No.4 in the 2012 NBA Draft. They don't necessarily have any desperate needs. They're set at the point guard position with
Kyrie Irving
. They have
Anderson Varejao
at the 5. Everything in between is fluid.
Antawn Jamison
is likely moving on, and they want upgrades at multiple spots. So they're going to have some options. SI.com reports that one player moving up strong on their draft board is North Carolina wing Harrison Barnes. 
The Cavaliers are very high on the 20-year-old small forward and appear unlikely to let him slip past them at the No. 4 slot in the June 28 draft, according to sources. While this week's predraft combine in Chicago and subsequent team workouts could always change things, rival executives are planning for Barnes to be off the board by the time the fifth pick (Sacramento) rolls around.

"He's a pretty big deal to them," one such executive said.
via Cleveland Cavaliers eye Harrison Barnes; more 2012 NBA draft notes - Sam Amick - SI.com.

It's an interesting addition. Barnes is largely projected as an athletic spot-up shooter, which has caused some concern since that's an awkward fit. Barnes does provide a quality offensive weapon to play with Irving, but he's not a strong finisher at the rim, so not exactly a "young guy to get out in transition."

Barnes is a high-caliber, high-IQ player, which fits with the kind of culture the Cavs are tryig to instill with the pick of Irving. Tristan Thompson complicates their situation with either Thomas Robinson or Andre Drummond if available, due to the fact it's not clear whether the Cavs want  him at the 4 or 5, and because he was up and down as a rookie. 

Barnes is a safe pick for the Cavs, but an interesting fallout will be what happens with Alonzo Gee who played very well at the end of the year and is a restricted free agent this summer. The Cavs want him back but are concerned about his value on the open market. Taking Barnes might affect that decision as well.