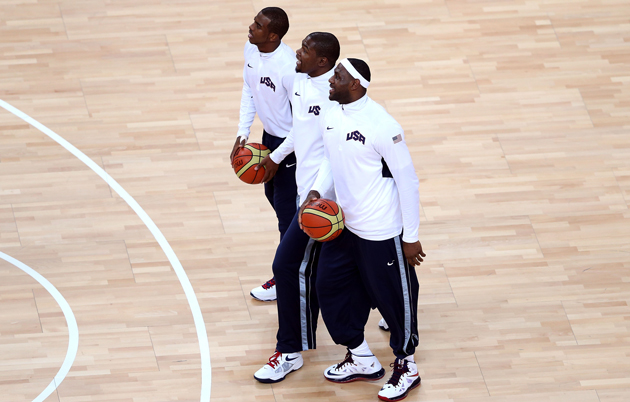 Would Chris Paul, LeBron James and Kevin Durant be the world's best three-on-three team?
(Getty Images)
Stop the presses: a large, international governing body just had a great idea that would be really, really fun and really, really awesome. 
USA Today reports that the top executive for FIBA, the world's leading basketball organization, is proposing a three-on-three tournament be added to the Olympics. 
Secretary-general Patrick Baumann said Saturday that his group planned to propose it to be played as early as the 2016 Rio Games.

Three-on-three, the game played in driveways, on playgrounds and around the country during the annual Gus Macker tournaments, debuted in the 2010 Youth Olympic Games. FIBA wants to create a comprehensive ranking system that would determine the best three-on-three teams in the world. FIBA already has a three-on-three world tour and world championship, but Baumann welcomed all three-on-three tournaments, such as Gus Macker and Hoop It Up, into the fold as long as those tournaments adhered to FIBA rules, including the registration of players in a database to chart wins and losses.

"Like volleyball has beach volleyball, swimming has synchronized swimming, we want three-on-three to be part of it," Baumann said.
I can't believe it either but you can stop rubbing your eyes in amazement. Obviously there are a lot of kinks to work out here but this needs to happen. 
The report indicates that individual countries would be responsible for "creating a format to determine which team it would send to the Olympics." The ideal format, of course, would be a "pros vs. joes" style tournament where a massive, national competition determines a winning group of amateurs, who then win the right to get slaughtered by the NBA's three best American players. The professionals would then move on to slaughter the rest of the world's top teams, just like in the Olympics' current five-on-five basketball version. This would be the best of all worlds: a chance to rally around an underdog story, a fun made-for-TV showdown between wanna-bes and the real deals, and then a global smackdown to cement national pride.
Really, though, you could argue that a three-on-three tournament would create a more level playing field, even among the world's best players. Without the ability to push tempo and translate forced turnovers into dunks, the gap between the USA and everybody else would narrow.
Consider the following three-on-three squads composed of the best players from the final eight teams in the 2012 London Olympics. In making these three-on-three teams, emphasis was placed on ball-handling (everyone touches the rock more), shot-creating (one-on-one skills are paramount), athleticism and versatility (quickness and the ability to defend both big and small are important), chemistry (effort and competitiveness are huge) and positional diversity (a balance between outside shooting and rebounding must be found). 
USA: LeBron James, Kevin Durant and Chris Paul. Undersized, sure, but with premier play-making, shot-making, excellent defense and commitment. Could struggle on the boards but a match-up nightmare sporting three of the best five players on the planet. The presumptive gold medal favorites. 
Spain: Pau Gasol, Juan Carlos Navarro and Jose Calderon. This team would be incredible if Ricky Rubio wasn't injured and inserted in place of Calderon, but it's still solid. Lots of offense, not as much defense, but the versatility and quickness of Gasol is a great X-factor. A likely silver medal team. 
Russia: Andrei Kirilenko, Vitaliy Fridzon and Aleksey Shved. Ball movement and player movement would be specialities, and imagine how good Kirilenko's help defense would be if he only had to account for three opponents instead of five. The bronze is probably their ceiling.
Argentina: Manu Ginobili, Luis Scola and Carlos Delfino. The three-on-three game would mean more room for Ginobili to operate and create off the dribble while Scola's paint-filling and rebounding abilities would be helpful too. Could push for silver. 
France: Tony Parker, Nicolas Batum and Boris Diaw. The passing abilities of Parker and Diaw would make this a very difficult team to defend, and Batum's length and 3-point shooting ability would be complementary. Also could push for silver. 
Brazil: Leandro Barbosa, Marcelinho Huertas and Tiago Splitter. Brazil might prefer to take an unconventional twin towers approach by swapping in Nene Hilario or Anderson Varejao for Huertas, but this squad has enough versatility and shot-creating ability to pose problems. Most likely out of the medals. 
Lithuania: Linas Kleiza, Rimantas Kaukenas, Darius Songaila. The hard-nosed Lithuanian style might be better suited for the five-on-five game but they would make opponents work (and bleed?) for their points in three-on-three. Out of the medals.
Australia: Patty Mills, Joe Ingles and David Andersen. As in the five-on-five game, this would be one of the weaker sides, but Mills' ability to catch fire and Andersen's outside-in versatility could be wild cards. Out of the medals.
Now, consider: that list didn't even include a Team USA II team that could be made of Russell Westbrook, Kobe Bryant and Tyson Chandler. Or, a Team USA III team of Derrick Rose, Dwyane Wade and Dwight Howard (all were injury scratches in London). Either one of those teams would be legit gold medal contenders.
What has this exercise taught us? Two things. First: 3-on-3 is an absolutely great idea on the international level. Second: This absolutely cannot be left to the amateurs. The excitement surrounding a three-on-three tournament (which could be a simple 8-team knockout tournament rather than the five-on-five's 12-team, 2-round tournament) involving the best pros would be off the charts.
There would be the novelty factor, the already-ingrained rivalries, the transitioning strategies from five-on-five to three-on-three, and the unpredictability of a game that isn't dominated by open-court play and doesn't place such an emphasis on foul trouble. Mic everyone up, encourage multi-lingual trash-talking and add national icons or celebrities as "coaches" and this could be the greatest Olympics development since the trampoline.