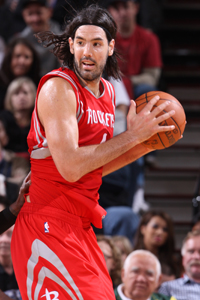 The Cavaliers may have interest in Luis Scola.
(Getty Images)
The Cavaliers are rumored to be interested in Luis Scola off the amnesty wire. The Mavericks are the other team with immediate interest, and have about $4 million left in cap space after landing Elton Brand, also off the amnesty wire. So the Cavaliers would be looking at having to put in a bid somewhere north of what the Mavericks have, call it $5 million to be safe, or $15 million over three years off of Scola's $21 million total in order to land the versatile forward. 
Scola would either fill in next to Anderson Varejao, giving Kyrie Irving two veteran bigs to work with and create space, or would slot in for Varejao in the event of a trade. The Cavs could also go with either Tristan Thompson, who the organization has debated internally can play the 5, or Tyler Zeller at the 5. It would be an awkward fit if Scola attempted to play center, having neither the height, length, nor athleticism to combat the fives in this league, even in an NBA where everyone is going smallball. 
Scola does have an excellent mid-range game to complement Irving, and would help the Cavaliers with a veteran presence, something missing after the departure of Antawn Jamison.
The Rockets waived Scola on Friday as part of their attempts to land Dwight Howard.