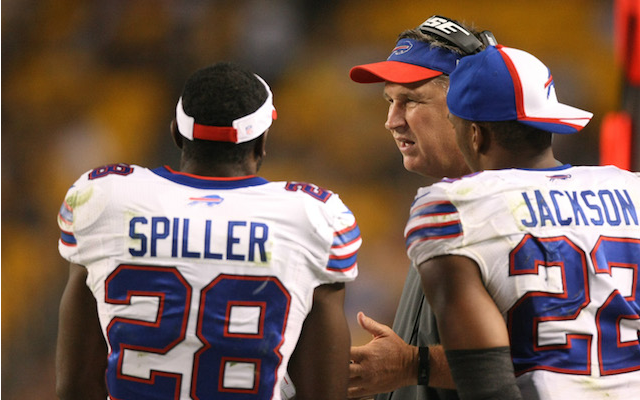 Apparently, when Buffalo Bills coach Doug Marrone decided to opt-out of his contract on Wednesday, he didn't tell any of his players beforehand. 
After the news became official, Bills players took to Twitter and sounded as surprised as anyone. 
Let's start with tight end Chris Gragg, who was the first player to react. 
Well dang.....

— Chris Gragg (@Gragg80) December 31, 2014
Bills tight ends are clearly quick tweeters because the next reaction also came from a tight end. 
Wow!

— MarQueis Gray (@MarQueisG) December 31, 2014
'Dang' and 'Wow' are fun, but let's get to the player who are actually kind of mad, like safety Aaron Williams. 
Lost all respect!! Completely pissed off, but not gonna let it ruin my New Years #Deuces #CantWait

— Aaron Williams (@ajwilliams23) December 31, 2014
Offensive lineman Eric Wood was also surprised. 
Wow... That caught me off guard for sure

— Eric Wood (@EWood70) December 31, 2014
'Wow' seemed to be the popular reaction. 
Wow. That's crazy

— Preston Brown (@PB_Number2) December 31, 2014
C.J. Spiller seems a little mad that no one told him about this beforehand. 
How quickly things can change just had a team meeting Monday and wasn't given a heads up, but guess that's how this business works

— Cj Spiller (@CJSPILLER) December 31, 2014
Then we have wide receiver Chris Hogan. 
New Years got a little interesting with that news.......

— Chris Hogan (@ChrisHogs) January 1, 2015
Then we have EJ Manuel and Kraig Urbik, who tweeted 'Happy New Year.' Because of the timing of the tweets, I'm guessing it was done ironically. 
Happy New Year!

— EJ Manuel (@EJManuel3) December 31, 2014
Happy New Year!!!

— Kraig Urbik (@kraigurbik) December 31, 2014
Or not. 
"@nfl: .@buffalobills players tweet reactions to Marrone's departure: http://t.co/0fL40O8WF1 pic.twitter.com/5xBCpBgZCq"•Wait ej only said..Nvmd

— Duke Williams (@Duke27_) January 1, 2015
Either way this one isn't ironic: Happy New Year everyone!