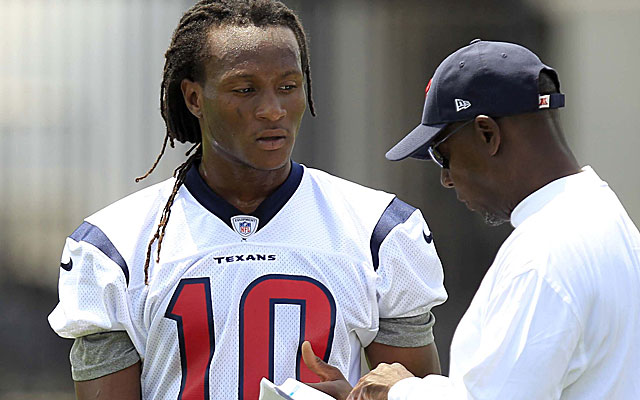 The Texans are a solid team, division winner, but unable to get over the top in the playoffs.
Owner Bob McNair wants more mental toughness. Coaches and front office people want the team to stay healthy and get to the playoffs intact. Players don't care about the past. There is a tremendous focus from the quarterback to the 90th guy in camp that they will get to the ultimate goal with hard work.
The pieces are in place for a legitimate run. Now it's a matter of going out and doing it.
For me, it was a rewarding trip, and the team couldn't do enough to give me a good look at this squad. I got time with McNair, GM Rick Smith, head coach Gary Kubiak, defensive coordinator Wade Phillips, and players Matt Schaub, JJ Watt, DeAndre Hopkins, Chris Myers, Duane Brown and Johnathan Joseph.
The stretch from Week 3 to Week 5 will tell us all we need to know about Houston -- at the Ravens, home against the Seahawks, at the 49ers. If the Texans want to take the next big step, an 0-3 mark against those three cannot be acceptable.
Things I heard or saw at practice
1. First-round WR DeAndre Hopkins went one-on-one with CB Johnathan Joseph over and over and won his fair share of battles for the ball. Watching Hopkins and Andre Johnson work resembled Roddy White and Julio Jones working for the Falcons.
2. All-Pro LT Duane Brown worked against undrafted rookie OLB Willie Jefferson and it was an impressive battle. Brown later said he has taken Jefferson under his wing and is teaching him the tricks of the trade. Jefferson looks better than 2013 draft picks Sam Montgomery and Trevardo Williams.
3. An undrafted returner made a big impression at practice. Dennis Johnson -- a 5-foot-7, 193-pounder -- has a chance to make this team as the return specialist and backup running back. He makes people miss.
4. With Ed Reed on the sidelines, rookie safety DJ Swearinger is getting lots of work in the secondary. He has a nasty streak in him and the veterans are impressed with his physical style.
5. There's little doubt the Texans offense will roll through many personnel groups looking for matchup issues, and there will be even more no-huddle packages this year. Keep an eye on three players who will maneuver all the combinations of personnel -- WR Keyshawn Martin, FB Greg Jones and TE Garrett Graham. All three were impressive in practice and present unique problems to a defense.
6. I was impressed with nose tackle Earl Mitchell. After only three starts last year, he will get a chance to be a full-time starter. Phillips compares his skills to a nose tackle he had in Dallas, Jay Ratliff. Mitchell is a former college running back who uses excellent quickness to penetrate and is perfectly suited to work with Watt.
7. Speaking of Watt, he was talking about what offensive linemen try and do to him when he is blocking passes. He said guys try to punch him in the gut when he leaps, but he has figured out how to make them miss while he's knocking down passes. He also said he worked all offseason on his third pass rush move to counter things blockers are trying to take away.
8. McNair is the fourth owner on my tour of NFL training camps to tell me he is in favor of expanding the game-day roster to 50 players, especially if the league is taking player safety so seriously.
9. Kubiak has had a physical camp but is starting to pull back on the hitting and tackling after six days of good work.
10. Newly acquired punter Shane Lechler was a guy McNair told me they tried to sign four years ago and finally got him this year. Lechler had a 72-yard punt with a 5.2 hang time the other day, which brought a smile to the owner's face.
Storylines to follow
1. Will Hopkins be ready to be a factor right away? I say yes after watching him work and how athletic he is against very good corners. He told me his personal goal is to be rookie of the year and I think he has a chance. I wouldn't be surprised if he catches 50 passes and scores eight touchdowns.
2. Can last year's 16th-ranked pass defense improve, especially against good passing teams like the Patriots? In the playoffs last year, the Texans gave up 344 passing yards and three touchdowns to Tom Brady without an interception and only one sack. Ed Reed will help create the big turnover they desperately need and the defense might play less man-to-man than they did last year and employ more zone pressures. Getting nickel corner Brice McCain back from a late-season injury will also help. I expect an increase in their "big nickel" package with three safeties on the field to combat the flex tight ends and running backs who are serious threats out of the backfield.
3. Can Arian Foster keep up the pace he's on? In the past three seasons, he has averaged 372 touches. It appears the Texans would like to see Ben Tate carry a heavier load. He has looked very good at practice -- an encouraging sign that the team doesn't have to wear Foster out.
4. Can the Texans score more through the air? Matt Schaub threw for more than 4,000 yards last year but connected on only 22 touchdown passes. Schaub tied Joe Flacco and Carson Palmer for 15th in the league. Of course, Flacco led his team to a Super Bowl title, so maybe 22 is good enough. The truth is the Texans will need more in the playoffs and they are building a better passing attack this summer. Schaub has thrown two touchdown passes in 90 postseason pass plays. I believe Schaub will close in on 30 touchdown passes this year.
5. What are the Texans doing to enhance their run game? Center Chris Myers said they are expanding their power run game with angle blocking and pulling linemen. Don't be surprised if you see Myers pull occasionally, but he made it clear Wade Smith is their best pulling lineman.
6. How patient is McNair? Some would have you believe he is frustrated and contemplating changes if the team doesn't go deeper in the playoffs. McNair knows injuries played a part in the playoff loss and he likes the moves the team has made to fortify the roster. At no time in our talk did I get a sense that the coaches are on a short leash.
7. Rookie report: First-rounder Hopkins will be a Day One starter and a major factor. Second-rounder Swearinger will play in packages -- the veterans love his style. The two third-round picks, OLB Sam Montgomery and OT Brennan Williams, aren't in the picture to help and it looks like the light hasn't gone on yet. In fact, other rookies are ahead of them right now. Fourth-round OLB Williams will be a special-teams guy. Of the four sixth-round picks, only OG/OT David Quessenberry is a factor. He should make this team because of his athletic ability and versatility.
8. Guys on the bubble: A few years ago, this team was looking for warm bodies, but now competition is everywhere and a few veterans will have to work to make the final roster. Linebacker Joe Mays was brought in; that means Tim Dobbins has to fight for a roster spot. The Texans will probably keep eight defensive backs; that puts guys like Roc Carmichael and Keo Shiloh in a position to fight for a spot. If Houston keeps three tight ends, then backup fullback Tyler Clutts will be in a difficult spot.
9. Final thoughts: The Texans should win the division again, but the Colts are closing the gap. Brown didn't shed a tear when Dwight Freeney left the division. This team reminds me of the Ravens when they kept knocking on the door and missing before last season. Houston needs home-field advantage, which they blew last year, if they want to advance to the AFC Championship Game. I think they will win two rounds in the playoffs before the season comes to an end.