It's hard to imagine another quarterback playing as well as Aaron Rodgers performed in the first half of Green Bay's 55-14 shellacking of Chicago on Sunday night.
He had as many touchdowns (six) as he had incompletions (also six). He threw for 315 yards. He recorded a quarterback rating of 156.2. Rodgers, like usual, decimated the Bears and appeared to have a grand old time doing it.
With his half-dozen touchdowns thrown in the first 30 minutes, he tied Daryle Lamonica of the 1969 Raiders as the only player in history to throw for that many scores in the first half.
Jay Cutler wasn't quite as good.
Aaron Rodgers: 6 TD passes in 1st half, Jay Cutler: 5 TD passes since week 6

— ESPN Stats & Info (@ESPNStatsInfo) November 10, 2014
And to put Rodgers' first half into a historical context.
There have been 3 six-TD passing games in the last 3 weeks (Roethlisberger twice, Rodgers tonight). There were only 3 total in the 1990s.

— Michael David Smith (@MichaelDavSmith) November 10, 2014
Rodgers was pulled midway through the third quarter so he didn't get the chance to tie the league record for most touchdowns thrown in a single game (seven), but aside from that, his night was just about perfect.
Unlike the other quarterback who played.
Cutler has awful night
Entering the game, we wrote about how bad Jay Cutler has been vs. the Packers throughout his career -- in fact, that was the biggest reason I picked the Packers to cover the 7.5-point spread.
Before Sunday, Cutler was 1-9 (all but one of those games in a Bears uniform) vs. Green Bay to go with a 56.8 completion percentage, 13 touchdowns, 19 interceptions and a quarterback rating of 67.0.
Why has he been so bad?
"Different coordinators, different teams," Cutler said this past week, via ESPN.com. "It's different circumstances every time."
The circumstances this time? While Rodgers was having an unreal night of quarterbacking, Cutler was just kind of terrible, completing 22 of 37 passes for 272 yards, a touchdown and two interceptions (trust me, he was MUCH worse than his stats line would indicate).
If you'd like updated Cutler-vs-Packers standings, here they are : 1-10, a 57.1 completion percentage, 14 touchdowns, 21 interceptions and a quarterback rating of 67.1.
Somehow, Cutler's stats IMPROVED after Sunday's game.
Luckily, my colleague John Breech had a good idea.
Just looked at the calendar, apparently we don't get Andy Dalton vs. Jay Cutler again until 2017. That really should be an annual thing.

— John Breech (@johnbreech) November 10, 2014
Somebody should cover Nelson
Rodgers has thrown 16 career touchdowns of 70 yards or more in his career, the most of anybody in history. Jordy Nelson has been the recipient of some of those, and on Sunday, the two burned the Bears for a pair of long scores in the first half.
The first occurred when the Bears blew a coverage -- or were caught trying to audible into a different one at the last moments before the snap. The cornerback defending Nelson let him run by and clearly expected help over the top from the safety, but that safety, Brock Vereen, didn't get there in time. And after Nelson caught what would be a 73-yard touchdown, he juked away from Vereen and outran him to the end zone.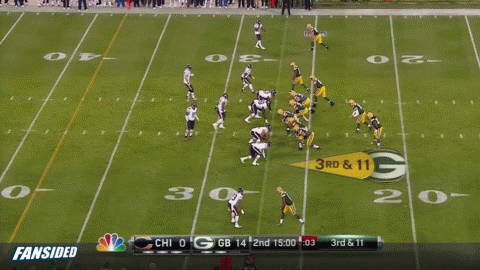 The second occurred when the Bears were in a cover 2 formation. Even though Rodgers scrambled to his right, moving toward Nelson's sideline route, Ryan Mundy continued to back-pedal straight backward instead of heading toward the corner of the end zone. As such, Mundy didn't come close to stopping Nelson from catching the 40-yard touchdown.
What does it all mean? Well, for one, teams should make sure Nelson doesn't get behind their defensive backs.
Jordy Nelson: 5 TD receptions this season of 40 or more yards ... no one else has more than 3 in 2014

— ESPN Stats & Info (@ESPNStatsInfo) November 10, 2014
Oh and don't forget ....
About Randall Cobb making the catch of the night.
Randall Cobb ... WOW http://t.co/iZicB1iGmE pic.twitter.com/TPOzFzTs0f

— Michael Shamburger (@mshamburger1) November 10, 2014
Matthews moves inside
One interesting change made by the Packers before the game was to insert Clay Matthews into a starting inside linebacker job (rather than his usual spot on the outside), and the move worked out well.
Matthews was seemingly everywhere Sunday, making stops from sideline to sideline and finishing with a team-high 11 tackles and a sack.
The reason Green Bay switched Matthews to the inside was because the last time the two teams faced off -- a 38-17 Packers win in Week 4 -- the Bears rushed for 235 yards on 41 carries. And as NBC points out, 203 of those yards occurred when Chicago ran between the tackles.
Thus, the idea of putting Matthews inside was to keep the Bears from finding success in the middle of the field.
It worked. It worked awfully well as the Bears rushed for 55 yards on 4carries.
Take a look at one example of Matthews' play.
A couple plays after he stopped Forte, Matthews whipped by left tackle Jermon Bushrod to sack Cutler. Matthews was so good that Rodgers found it hilarious.
Say this for Brandon Marshall ...
He didn't give up. Not even when his team was down 45-0. The Bears receiver was the one to make this 45-yard touchdown happen. Kudos to him for continuing to play hard, even if he leater had to leave the game with an ankle injury.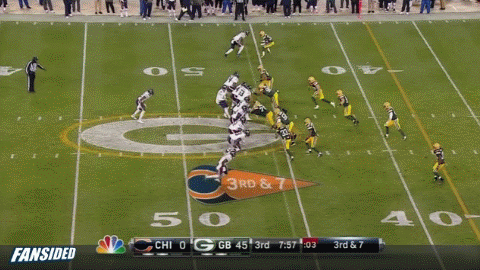 Kick save and a beaut
Cutler wasn't the only one on Chicago's squad who got embarrassed Sunday. So did Bears punter Pat O'Donnell -- who had a kick blocked by somebody else's foot!
Technically, it wasn't a blocked punt since O'Donnell's foot never made contact with the ball. Rather it was a fumble and ... well, it doesn't really matter either way.
Guarding the quarterback
Both Packers guards were questionable to play entering the game -- Josh Sitton because of a toe injury and T.J. Lang because of an ankle injury -- but both played and both played well enough to keep Rodgers clean as the Packers didn't allow a sack.
Sitton and Lang even got some running in, helping spring running back Eddie Lacy for a long touchdown.
T.J. Lang and Josh Sitton getting out ahead of that screen and Lacy brings it in for a 56-yard touchdown. We got a bleeder...

— Wes Hodkiewicz (@WesHod) November 10, 2014
Going for it all early
After a strong first drive, the Packers were facing fourth-and-goal from the Bears 1-yard-line. Rather than go for the safe play and the field goal, Green Bay coach Mike McCarthy decided to go for the touchdown.
And Rodgers made sure he went to his old reliable standby, No. 3 tight end Brandon Bostick.
Wait, who the hell is Brandon Bostic?
Brandon Bostick came in with one catch for 2 yards this season. Now he has two catches for 3 yards and a TD. #Packers

— Jason Wilde (@jasonjwilde) November 10, 2014
Like I always write, Bostick is always dangerous in those situations.
Man, I hope this doesn't become a trend    
What are you doing, Lance Briggs?
So what do we call this strip of hair on the back of Lance Briggs' head? pic.twitter.com/DzTC2PO98A

— The Cauldron (@TheCauldron) November 10, 2014
Say one thing for that look. That line of hair is awfully straight and geometrical.