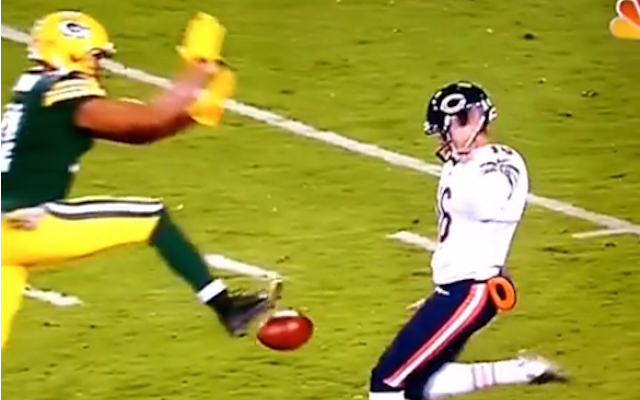 It's been a rough night at Lambeau Field for the Bears. Their offense can't do anything. Their defense gave up an NFL-record tying six touchdown passes to Aaron Rodgers in the first half -- and now, their punter can't even punt the ball.  
During the third quarter, the Bears lined up to punt, but Green Bay's Jarrett Boykin decided he wanted to kick the ball instead and that's exactly what happened, as you can see below. 
That's the first kick-block of the 2014 season and possibly the first in NFL history. Unfortunately though, the NFL doesn't keep kick-blocking stats, so Boykin will have to live his life out never knowing if he holds the league kick-blocking record. 
For the record though, the kick-block actually goes in the stat book as a Bears fumble with a Bears recovery. Since it was fourth down though, the Packers took over on downs after the recovery. 
The Packers turned the kick-block/fumble into three points, stretching their lead to 45-0. You can follow the Packers-Bears with our CBSSports.com game tracker here.