At least part of the reason for the initial delay in a written response by Patriots owner Robert Kraft to the heavy penalties levied against his team on Monday can be explained by how surprised the franchise was by the reaction of the NFL. They were bracing for discipline -- maybe something specific for Tom Brady that might be lessened on appeal; or some sort of fine -- but the overall scope of the discipline was unlike anything they expected, sources said.
There was a fair amount of disbelief when the letters from the NFL arrived, and while investigator Ted Wells went about discrediting the notion that this was a sting or a set-up of some sort, I can assure you it hasn't altered the perception within that franchise in the highest reaches. Given the extent of the smackdown -- a four-game suspension for Brady and the loss of two picks (a first in 2016 and a fourth in 2017) as well as a $1 million fine -- Kraft worded his statement carefully, and the latest text, if read closely, does not preclude his team taking some sort of action against the NFL, an appeal or otherwise.
It was never their intent to fight back, despite their firm belief this was more a sting operation and an attempted set-up than a cheating scandal on their part, but after reading the letters sent to them by the league on Monday, it can't be entirely ruled out now. I'd still label it a long-shot, though I'd expect Kraft to be plenty vocal behind closed doors and away from the microphones when the owners and league officials gather in San Francisco for an NFL meeting next week.
Prior to Monday, the Pats brass and staff didn't anticipate having to go to great lengths. They couldn't fathom a response this stern and this far reaching. They are fuming, I'm told, though they will be careful about how much of that response is revealed, and at some point all attention must turn to the 2015 season and their attempt to defend a Lombardi Trophy. But count me among those who believe this discipline will forever mark a turning point in the relationship between Kraft and Commissioner Roger Goodell, and this will only intensify Kraft's growing dissatisfaction with chief NFL legal counsel Jeff Pash.
 The fact that the NFL gave them no warning and allowed that AFC Championship Game to be played with balls that may not have been regulation -- at a time when the NFL could have done any number of things to preclude it from happening -- won't be forgotten anytime soon in New England. And if this franchise and its leader, Bill Belichick, have shown us anything over this long run of theirs it's that they can clench on to any perceived grievance and gripe against them and never let it go.
The fact that they were so taken aback by the league decision speaks to the degree to which they object, and, well, let's just say that this is a franchise that might be inclined to hold a grudge or two.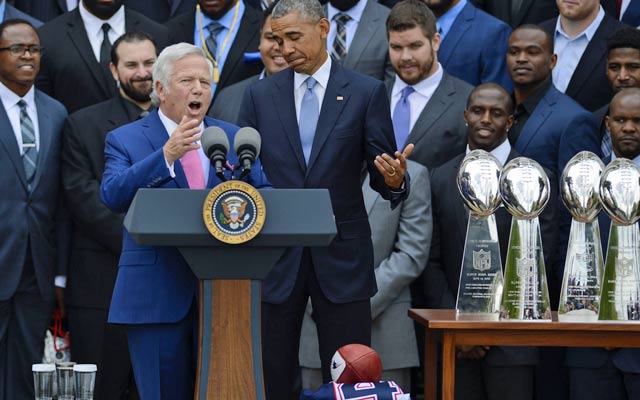 Jimmy's time in Foxboro
Just a hunch here, but I wouldn't be surprised in the least if, by the time Brady returns, assuming he serves all four games, that Jimmy Garoppolo isn't the best quarterback in the AFC East.
Buffalo and the Jets are grasping at this point for quarterbacks and Dolphins starter Ryan Tannehill has a lot of upside and shows flashes but getting the ball downfield to any degree has been a massive issue for him.
Yes, the Pats' superior cast around the quarterback position will be a factor, but Garoppolo will look the part. There is a ton of time between now and the season for Belichick and offensive coordinator Josh McDaniels to coach him up and get him prepared. He looked better and better last year through his first training camp after a shaky start and I bet he looks just fine in whatever amount of time he has to perform.
Texans cleaning house with 2013 class
 The release of safety D.J. Swearinger this week, while expected, was the latest drastic step in the systematic dismantling of Houston's 2013 draft class -- the last that occurred before the arrival of head coach Bill O'Brien.
Swearinger was the Texans' second pick in that draft, and his departure via waivers means that the only player of note to remain from the class, and the only one who provided even scant production, is breakout receiver DeAndre Hopkins, their top pick in 2013 and someone who continues to stride into the upper echelon at his position. Hitting in the first round is certainly what it's all about, but the rest of the 2013 crop is more or less gone and/or forgotten.
 Thoughts and prayers remain with brave offensive lineman David Quessenberry, one of their sixth-round picks in 2013, who is bravely fighting cancer and remains a beacon and an inspiration to the organization. His medical situation is obviously far more significant than anything that has occurred on the field from this draft class.
Here is where things stand with the rest of the players the Texans selected in that draft, with just three of the nine players they selected remaining on their active roster:
WR DeAndre Hopkins, 1st round, 27th overall – One of the better young receivers in football
S D.J. Swearinger, 2nd round, 57th overall – waived this week
T Brennan Williams, 3rd round, 89th overall – waived in July 2014
LB Sam Montgomery, 3rd round, 95th overall – waived October 2013 after violation of team rules
LB Trevardo Williams, 4th round, 124th overall - waived August 2014
WR Alan Bonner, 6th round, 195th overall - remains on roster, yet to appear in an NFL game
DT Chris Jones , 6th round, 198th overall – waived August 2013
TE Ryan Griffin, 6th round, 201st overall – career stats of 29 catches, 335 yards, 2 TDs
Time running out for Rice
Still have yet to see a single workout/tryout request for Ray Rice on the NFL's daily transaction wire. Would imagine that by this point, removed from the draft, that he's running out of time to secure anything prior to training camps opening and injuries developing, and even then it might not be enough for him. If all 32 teams pass on giving him an invite to a veteran mini-camp, you have to wonder if or when his day will come. Absent his crime being caught on videotape I continue to believe he would have at least secured a chance to work out for a club.